This is my first post in a long time so expect it to be a little rough & rambling.
I arrived in Chiang Mai at around 4pm yesterday evening, sadly Kate had to miss her flight due to falling ill just 24 hours before we were due to fly. She suspected a flu coming on and started feeling very ill after rushing to get a batch of her jewellery finished in time to leave, working with very little sleep all week. The day before our flight I finished packing and went to take care of her but she started to feel even worse after taking lemsip. We left for A&E in a flurry of snow at midnight after she started throwing up and not being able to stand on her own. Despite it being nearly impossible to get there and passing a few abandoned cars the doctors were very helpful and swift. Kate was diagnosed with having had a bad reaction to all the paracetamol, as well as a virus. 4 hours later, she's been given fluids with glucose to take care of the paracetamol, as well as some meds.
The plan was to get to LGW in time to call our insurers to see what could be done, speak to Norwegian air and find out if we could move both flights but it became apparent that postponing both of our flights was impossible and to go through insurance would take weeks if not a month. I had to make a decision on whether to cancel the whole trip and re-book or to fly alone and cut our losses to just one missed flight, booking her on a later flight. I also felt like all of the anticipation about leaving and the momentum I'd built up in the weeks leading up to our trip would leave me if I cancelled. Might be good for me to just get out there, however much I miss Kate.
The flight from LGW to SIN was delayed by around three hours which prolonged my sleep deprived state but as soon as we took off I napped for a few hours. Some of the rest of the journey was spent knocking together a basic wordpress theme based off of Solarized – a colour palette I use in terminal and my IDEs. It's basic so far but I'm kinda happy with it, planning on working on it whilst waiting for Kate to arrive in about two weeks. I'll have a go at Google's Machine Learning Crash Course as well whilst here.
I deleted my last WordPress instance after having become resentful of the fact that I wasn't using something more 'edgy and cool' like ghost or medium or steemit which a lot of people seem to be doing nowadays. For now I'll keep using WP as it's familiar…
Met a nice older couple on the flight from LGW, both from Bristol who are spending a few weeks in Phuket to unwind. They own a chippy and he's currently experiencing the pain of getting a website developed and for some reason is paying £50 a month to have an app built with no upfront costs, not sure how that works.. The original plan was to grab lunch in Singapore with Kate and meet a friend from university but after the delays I didn't want to chance it. Spent the 3 hours I had mooching and using free foot massagers in terminal 2, thanks SIN!
So I arrived in CNX and took a cab to Chiang Mai old town, checked into Ma Guesthouse and promptly fell asleep. Woke up to a breakfast of fresh fruit, toast, sticky rice with coconut milk and banana bread, amazing what £9 a night can get you!
Off to check out old town today, it's a lovely 22c right now, hazy skies due to the ever growing pollution out here (165 / unhealthy at the time of writing).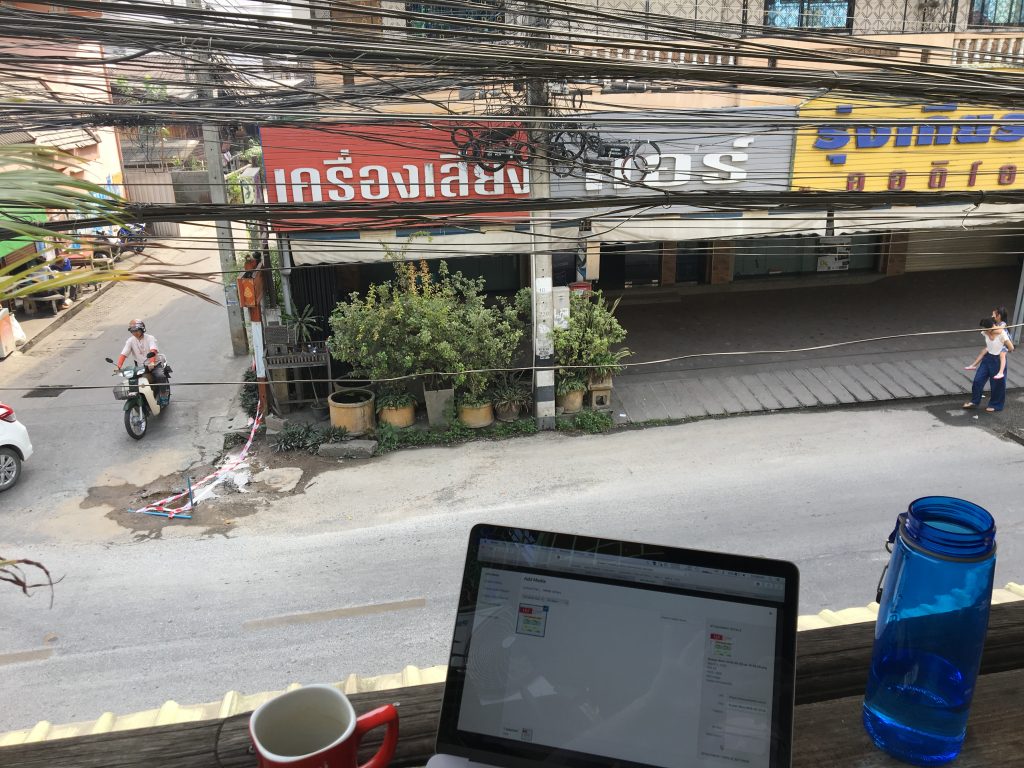 *Obligatory edit: A falling bird-turd hit my laptop moments after posting this 🙂