All settled into Chiang Mai, realised just now that I hadn't explained what the plan was for these travels. I'd been working as a contractor at Immediate Media for the past 16 months, fresh out of University and really enjoyed the work. Living at home still in the UK and commuting 3 and a bit hours every day was very tiring, anyways.
The plan:
Thailand: 2 months, stay north of Bangkok until it's time to leave, then we'll bus it into Cambodia
Cambodia: 1 month – no plans yet apart from staying near Angkor Wat for 7 days and getting a weekly pass, I hear it's huge and you can explore.
Vietnam: Start out in Ho Chi Min down south and make our way up slowly over the course of a month, spend two months in northern Vietnam where we know a few people!
Laos: Laos doesn't really have a thriving tourism industry, more research to be done but we'll spend around a month there
Nepal: From Laos we'll fly to Kathmandu where a friend is going to be working at a school, help out with the IT a little and hike
India: From Nepal I'd ideally like to do a land crossing into Uttar Pradesh which is northern central India, then work our way down counter clockwise through New Dehli, Jaipur, Jodhpur, Ahmedabad, Mumbai, Bangalore etc.
Return home?
We plan on travelling until the money runs out, living modestly and sustaining ourselves through a little freelance work online here and there. I know Digital nomads get a bad reputation for not integrating with their surroundings so we'll be very conscious of this. We'd also like to volunteer at a few places along the way, we're still putting together a shortlist.
Days 2 and 3
Yesterday I was still catching up on Jetlag and working on my WP theme, there's a lot more to do on templates other than the bog standard posts and I do feel bad for not using a MVC/MVVM framework and do need to work with React more.
I went out for a walk around Chiang Mai's old town as I'm staying just inside the border, it's a beautiful place that's really keeping it's heritage, despite it's streets being way too small for all the traffic it wasn't built for. Yesterday was quite hazy due to it being the burning season right now, the burning season is when Thai farmers burn their land to prepare it for the following year, it's an old and illegal practice which fills Chiang Mai with smoke due to it being surrounded by mountains. The smoke flows down into Chiang Mai and hovers around for a while, it's a common topic when speaking with other tourists or taxi drivers.
I've been tracking my movements using PhoneTrack – an owncloud application which allows me to set up a client on my phone which in turn sends my GPS coordinates every 5 minutes to the server. If my phone's offline it'll cache the data and send once it connects. Here's yesterdays wander round old town I took (including the taxi ride in):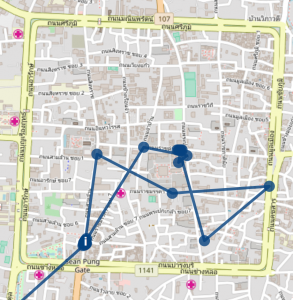 I started out on Samlan road (bottom left with the 'I' symbol) and headed North, Samlan road where I'm staying at Ma Guesthouse is a rather busy street due to it being one of the larger roads that connects old town from North to South. Up where I turned right, there's a huge temple called Wat Phra Singh (Wat == Temple) which I've not yet explored and only admired from afar. I'm going to resist the temptation to google and write about Phra Singh as I want to visit it and do my own research so that'll come at a later date. I turned right onto what looked like a busy road and passed lots of cafes and trendy bars, as well as some market stalls and restaurants, the usual stuff. I kept wandering until I found a temple that looked less 'intimidating' and entered Wat Phan Tao, it's completely built out of teak wood on a stone base and is one of the older temples in Chiang Mai's old town, dating to the 14th century. Round the back of the temple there's a stunning gold Chedi and and a stream running through the grounds, a small but extremely peaceful place and highly worth a visit.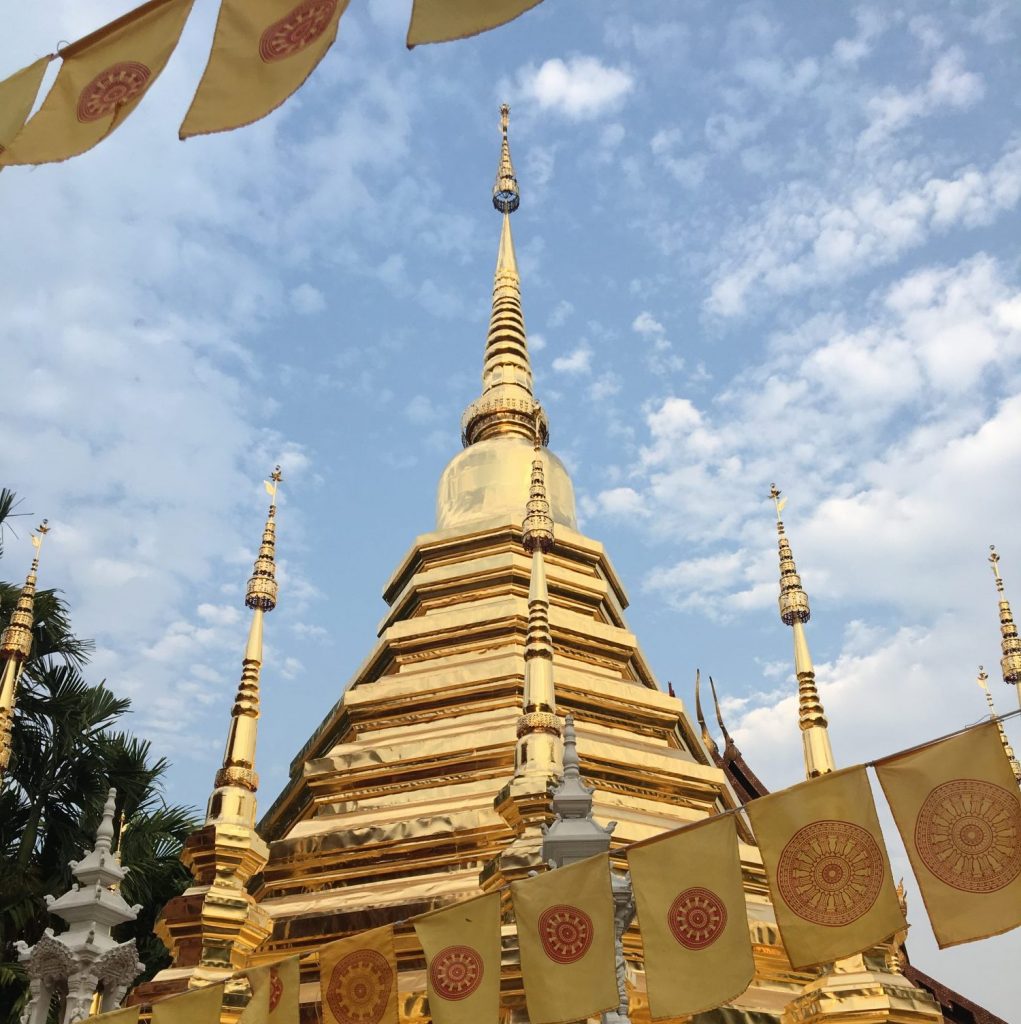 I wandered around a bit longer and started to feel hungry, the abundance of restaurants really daunted me, on top of being vegetarian and certainly not knowing enough Thai to convey that I didn't want any meat in my food! I followed my gut instinct (get it? 🙄) and headed in what I thought was the direction back to Ma Guesthouse. After a while I stopped caring about the practicalities and decided to head for the next place that had outdoor seating and a few locals. I found Tom 1 Baht and sat down to be served by a really shy but lovely waitress and wrote a postcard. An hour later and a belly full of Tofu Pad Thai (ordered a second one it was so heavenly) & a large Chang for 135THB (£3.11. €3.48 $4.28).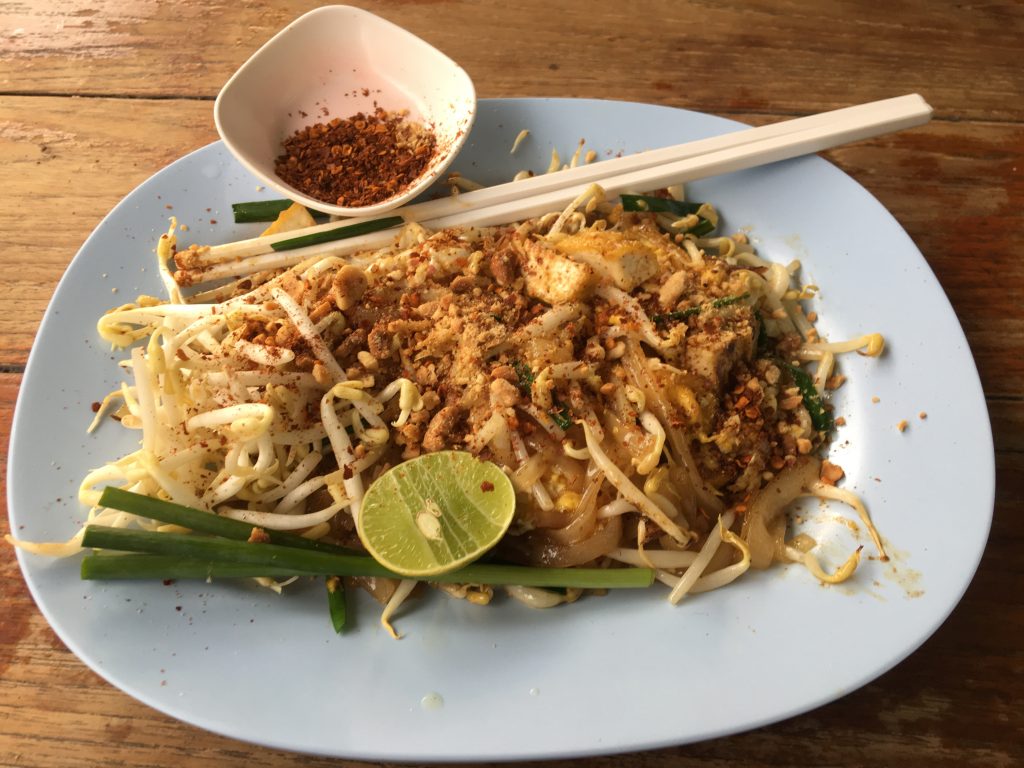 Today, Ma hooked me up with a scooter and helmets from Mr. Mechanic (just outside the old city walls) for just 150THB(£3.46, €3.87, $4.76) per day, it's a 110cc Honda Scooby and runs like a charm! Make sure to give your scooter/bike a once over when getting one and to take pictures, but Mr. Mechanic seems like a very reasonable place to rent from. It's just outside old town so very convenient for me, plus they dropped it off.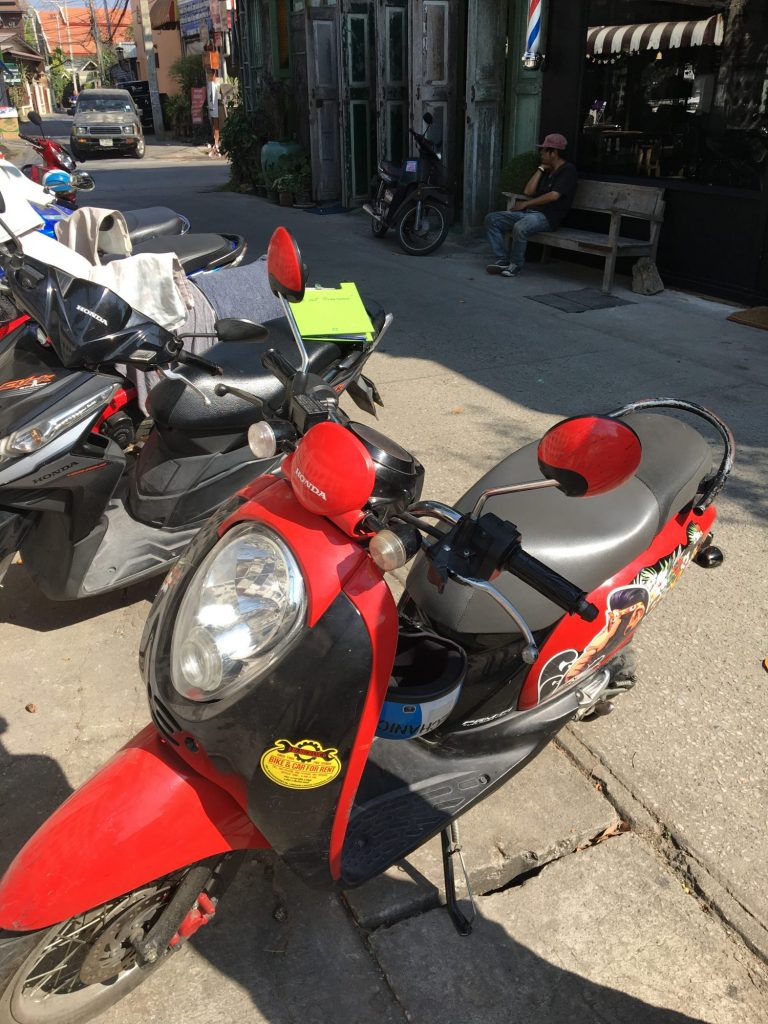 I spent most of today just pottering around on the scooter to get used to the traffic and roads here, couldn't get an international driving license because the post office was closed due to snow before I left so if I'm pulled over it's a 200THB fine and I'm off on my way again.. If you do get pulled then make sure to get a receipt so that the next time you've got proof you've recently paid the fine (read: bribe).
I met a really nice couple staying at the guesthouse today, a girl called Sarah who has been teaching at the primary school in old town and her Laos friend, Bok who sells advertising, they invited me out for dinner so we rode our scooters to Riverside, a westernised restaurant on the main river. Food comes at a premium here and you can expect to pay around 100THB for a main – still reasonable, considering the views!
After dinner we went to check out a Hot Air ballon festival and fireworks. That's it for today as I'm supposed to be leaving at 6am to take the Monk's trail up Doi Suthep, a mountain west of Chiang Mai.