These past few days I've been trying to keep as busy as possible and get out of the city as much as I can. Chiang Mai has been exceptionally hazy and reached 181 yesterday, pretty bad! On Sunday I ventured out a little later than planned due to jetlag kicking in. Left at around 9am and headed straight for Doi Suthep on my scooter, as soon as I started climbing the mountain it became clear that I wouldn't be stopping any time soon. The ride was sublime, hardly any traffic except for the Songtauws (red taxis) climbing up slowly. The main road winds all the way up to the peak of the mountain, past many waterfalls and beautiful views. I can imagine my mum and stepdad cycling round here and absolutely loving it, after climbing a short way you're greeted with cool air falling off the mountainside and the sweet smells filling your lungs. It really makes the pollution noticeable!
I rode up past Wat Doi Suthep, with busloads of tourists being dropped off, up to the Royal Palace and decided to stop and visit the palace. One problem, I had shorts on and the dress code for the royal palace is quite strict. What a wonderful excuse to ride all the way back down into old town to pick up a pair of trousers (even though they've got trousers you can rent for something like 50THB right next to the palace entrance)!
I'm riding back to the guesthouse along the moat road which surrounds Chiang Mai's old town and lo-and behold there's a police stop. The police quite aggressively direct all scooters to pull over and hand over their documents. I knew what was coming and admitted I didn't have my international drivers license. I was mistaken that it would only be 200THB which I'd gladly pay, instead I was handed a 500THB fine with no way of bartering. Handed over the money, got my license back and rode off, already scheming on how I could avoid these road blocks in future :).
It was hitting mid day by the time I'd gotten to the base of Doi Suthep this time and I fancied a walk and some shade so I took the first turning and parked the scooter, hopped off and wandered into the Huay Kaew Waterfall which is free to enter. There are a few routes you can take, I took the 'slippery' route up to the higher waterfalls, seeing a few boys playing at the top of the waterfall piqued my interest and so I made my way up to them by following a steep little path to the right (at this point I really realise I need to take more pictures).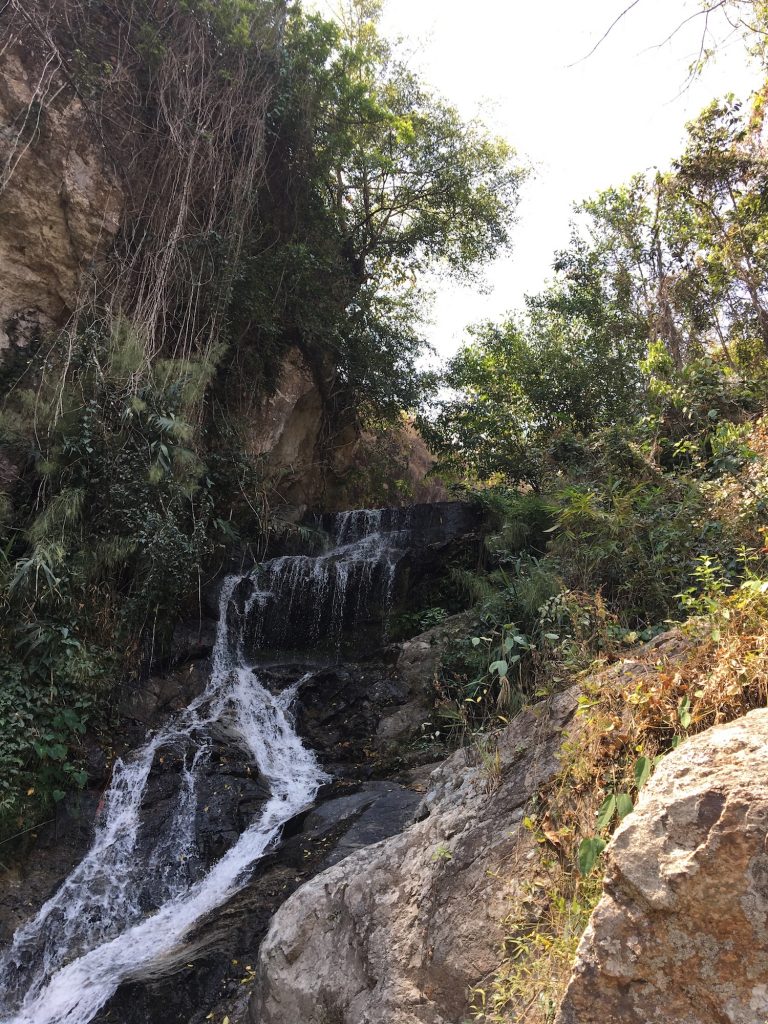 Took the trail up and by now I was definitely getting a sweat on so decided to take a quick break. Despite it being a Sunday and lots of tourists mingling around at the bottom of the first falls, there was no one to be found further up apart from a few Thai boys playing further down. I found a spot in the shade and cooled my head down in the water.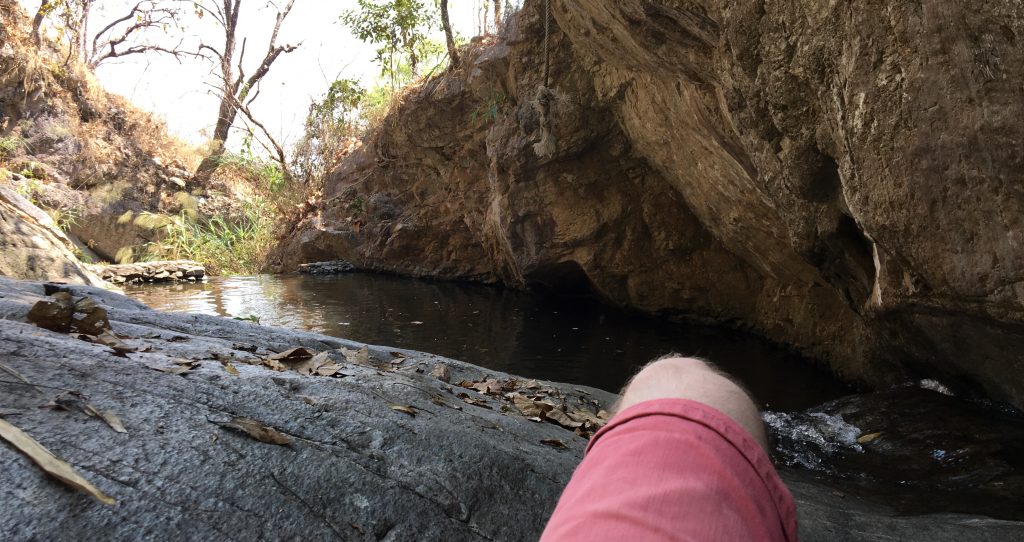 Continuing on up past the small falls behind me I found part of the monks' trail, marked with robes tied around the trees. Another scramble up led me to the waterfall where I enjoyed a bit of sunbathing with some boys playing in the waterfall.
I went back to the waterfall today and joined in on the swimming and jumping in all day, and sunbathed because I am ghastly pale at the moment.
After the waterfall I drove up to Wat Doi Suthep – it's pretty impressive and worth the visit but very crowded (implying I wasn't adding to the crowds?)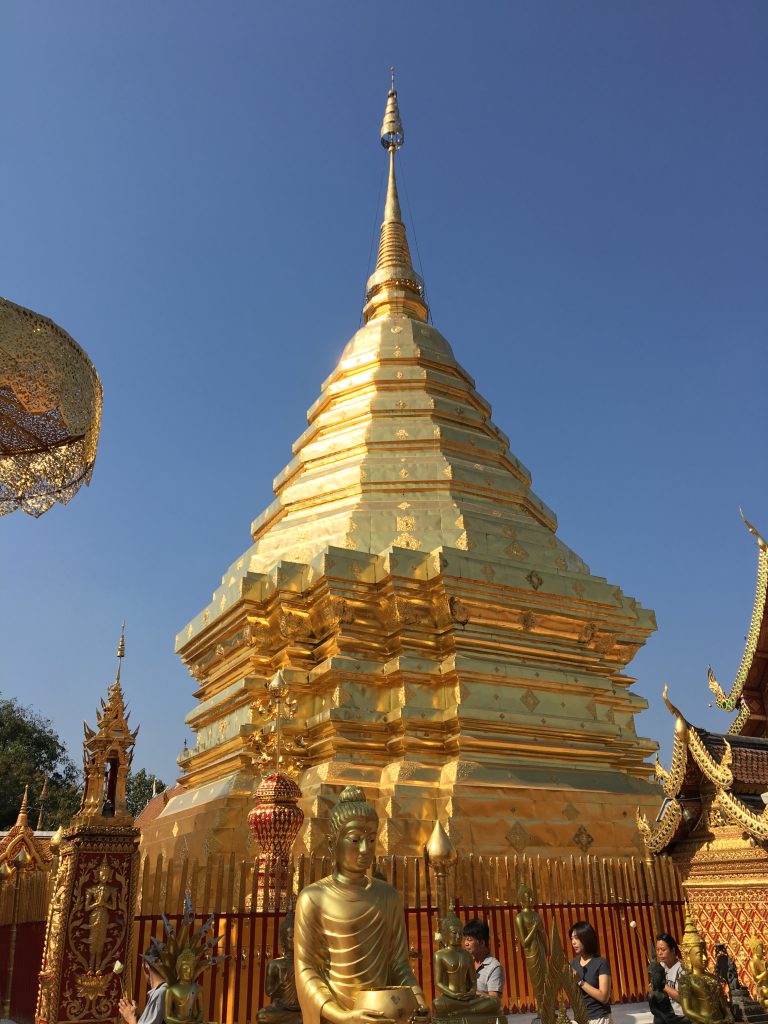 Construction on Wat Doi Suthep began in 1386 under King Kuena (r.1367-88) and was completed within a few years. The temple complex was periodically expanded and embellished over the following centuries.
Construction would have been an arduous task, with workers having to carry supplies through thick jungle: the road leading to the temple was only installed in 1935. The modern paved road was a joint effort of communities throughout the Chiang Mai region, each of whom contributed 1,300-foot sections.
According to legend, a magical relic multiplied itself just before it was enshrined at Wat Suan Dok in Chiang Mai. A suitable place therefore had to be found to shelter the new relic.
Unable to decide on the site, the king placed the relic in a portal shrine on the back of a white elephant and waited to see where the animal would take it. Eventually, the elephant walked up to the top of Doi Suthep mountain, trumpeted three times, turned around three times, knelt down, and died. The temple was immediately built on the miraculously-chosen site.
After Wat Doi Suthep I ventured further up the mountain, past the royal palace and up to the peak of Doi Suthep – stopping at a viewpoint looking over the village of Doi Pui Hmong – a tribal village which has a few markets.

At what I can only presume is the peak of Doi Suthep is a temple – Wat San Ku. In 1983 the fine arts department began excavation and restoration work on San Ku at the wish of H.R.H Princess Maha Chakri Sirindhorn, who had learnt that this ancient historical site had been looted and ravaged for a long time. Before restoration, San Ku was an ancient earth mound densely covered by trees. When earth and soil were removed, remains of Chedi and wihail bases appeared. Exploration of the pit in the middle of the Chedi base revealed many important historical artefacts. It was estimated that San Ku dates from 13th century A.D.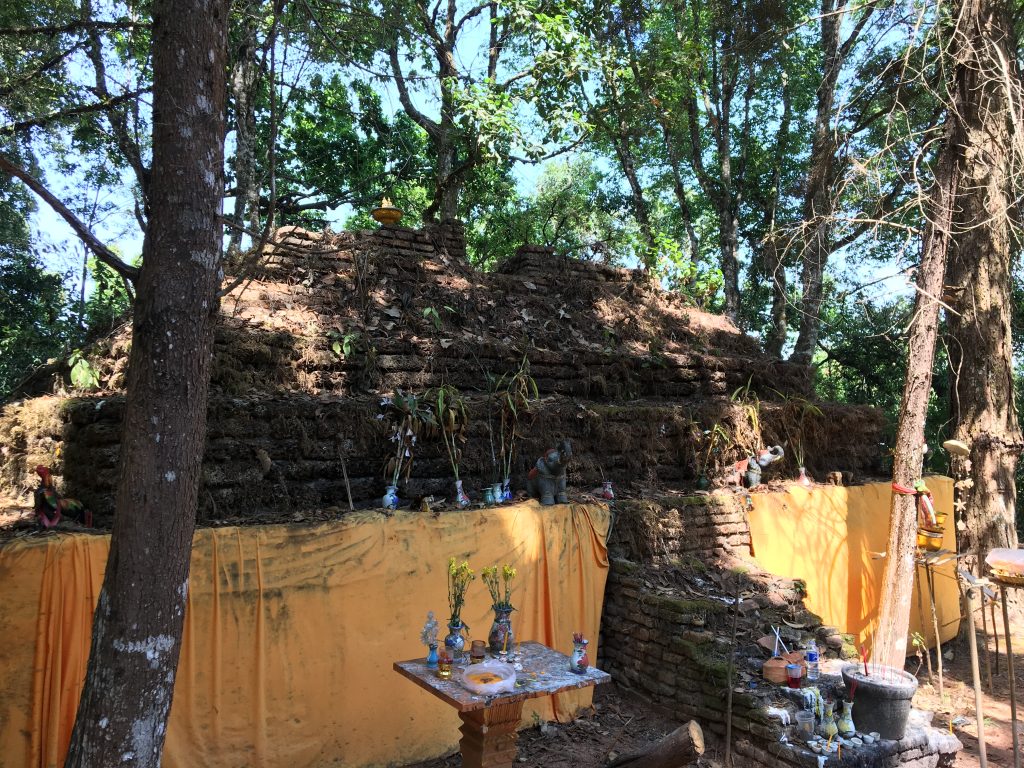 Yesterday I spent most of the day inside, away from the heat and pollution and catching up on lost sleep from jet lag – I started reading Chronicles Of The Future, a book recommended to me by Kate (who is still feeling very fragile but is working on her jewellery and excited to come join me) – in the evening I tagged along to a Hindi ceremony at the local Indian temple, just north of Chiang Mai old town and had some delicious veggie Indian food.
Today I returned to the waterfalls and sunbathed all day, chatting with the odd tourist that came by and swimming with the Thai kids. At around 4pm a group of monks came to cool off with us too! I managed to miss two police stops by driving on the other side of cars and acting oblivious, but was flagged down just outside old town on my way home but managed to bluff my way through paying another fine for not having my license. I pulled over, showed a little disdain at the fact I was pulled over and quickly flashed my now out of date ticket from last week. On my merry way back to the guesthouse! I stopped by Mr. Mechanic to pay for a few more days of scooter time and then went to Talat Somphet Market in north-west old town for some fresh noodles and veggies to make myself a noodle soup in the guesthouse kitchen, delicious but I added far too much chilli!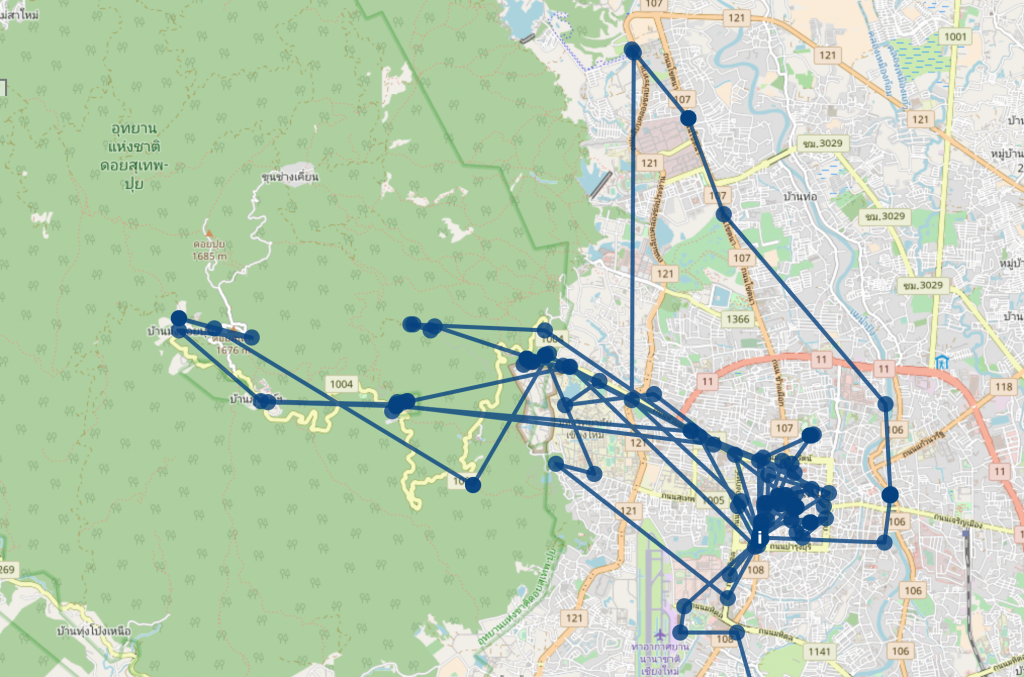 That's all for today, I'm shattered for some reason (9pm here). Thanks for reading!